Some of our recent projects
We've loved working on these projects, and the responses we've had from our wonderful clients – it makes our day to see their reaction when they see their completed home for the first time.
Major renovation at Khandallah
We were privileged to take on the major renovation and additions to this Khandallah home, which had been sadly neglected and unloved for many years. It's a great feeling to see the transformation of this home – which was in very poor condition – to now being a fantastic, comfortable family home.
Ludlow Builders lifted up the entire house, excavated underneath it, and rebuilt it from the inside out. The original timber flooring was removed and re-laid, and we also, at our client's direction, built a brand-new stand-alone three-car garage, an office, a swimming pool and a tennis court. The results are stunning!

Modern construction at Plimmerton
For a special grand design in Plimmerton, this client called on us for our extreme construction expertise and know-how. A very technically-demanding build, the house has a concave lip on the top of the solid sea wall along its frontage, and a set of specially-made hinged stainless steel stairs that can be lifted up to close the gap. Wellington's storms can be pretty severe, but we're confident this build will stand up to the roughest of the elements!
The house has been beautifully finished by Ludlow Builders with cedar shiplap and custom-glazed walls beside the dining area. It also incorporates seamless sash windows, which can be raised to 2.1m, to make the unobstructed most of the stunning sea views.
Alterations and additions at Khandallah
This beautiful Khandallah house has been altered and extended to include three more bedrooms, a study, and a cleverly-fitted extra bathroom in the ceiling space. We completely renovated the ground floor, which now boasts a wide entrance foyer and stunning kauri staircase. We also made a house a lot quake-safer, by dismantling and rebuilding two chimneys.
We're delighted that our clients have also contracted us to maintain the property for them, so they can look forward to many years of relaxed, gracious living in their wonderful home.
Edwardian villa restoration and extension at Thorndon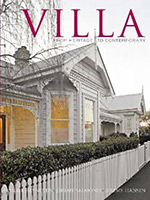 Ludlow Builders was really excited to take on the restoration, additions and alterations to a very special Thorndon villa. Our work celebrates the gracious style of the villa's Edwardian origins, which has been painstakingly and faithfully restored, yet now ideally suits a modern-day style of family living. We added wonderful open plan living areas, which complement the villa's complex interior, and its original and seamlessly reconstructed features. Our clients, a busy family, love it!
This house featured in a book called 'Villa from heritage to contemporary' by Patrick Reynolds; Jeremy Salmond and Jeremy Hansen.
"We got home yesterday and I just wanted to tell you how thrilled we are with the apartment. You and the painter have done a wonderful job. Thank you so much."
"Saw the brass front door step returned in polished form. All are impressed – magic! Thanks for that, a very nice finishing touch."
"Many thanks Brian. As always I'm ever grateful to have your expertise on the building jobs!"
"Many thanks Brian for the wonderful work you did on our property."
"Pleasure doing business with you … we would strongly recommend you."